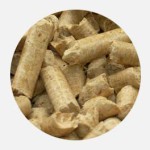 Premium or residential standard wood pellets are becoming increasingly popular, whether it be for a small home-installed biomass boiler or a larger-scale heating system. As with the industrial pellet, there are also different standards applicable to these products. ENplus A1 is currently considered the highest quality standard within Europe and is audited by the European Pellet Council. This standard controls parameters which are critical to the low cost running of your biomass boiler, including ash %, moisture content, mechanical durability, energy content, and ash melting temperature.
The ENplus A1 standard for wood pellet is as follows:
At Sustainable Pellets we work with a number of trusted and credit worthy suppliers of ENplus A1 Pellets from all over Europe and more recently, of USA and Canadian origins. We also conduct transactions with ENplus A1 traders and distributors, helping buyer's source reliable product or sellers looking to find a home for their A1 standard pellets.